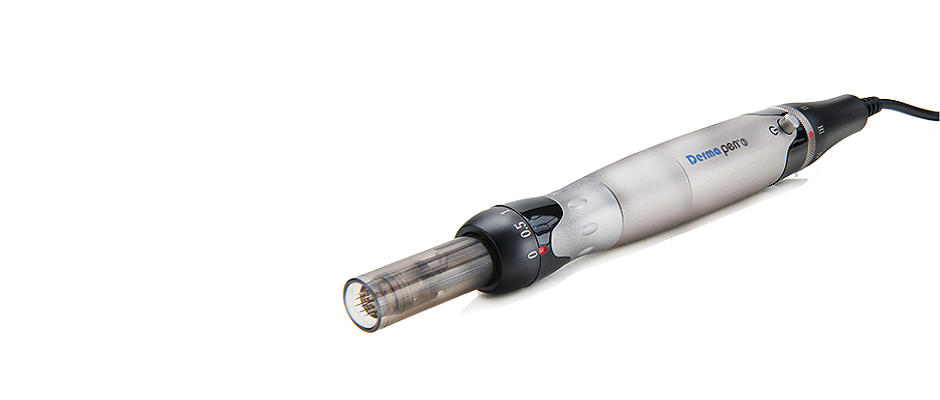 Dermapen apparatus is a small but extremely powerful device, whose application stimulates the construction of its own collagen and elastin in the skin.
The dermapen device consists of sterile needles made of surgical stainless steel that make up to 1,300 microstitches per second. The needles located on top of the Dermapen quickly oscillate and easily slide over the skin, thus preventing damage to the skin.
The size of the needles is from 0.5 to 2.5mm. The size of the needles will be used depends on the region being treated as well as the effect we want to achieve. The depth of penetration of the needles is adjusted during the treatment itself. Dermapen can treat even the most sensitive areas on the face by adjusting the depth of penetration of the needle, which was not possible with Derma Roller. In order to treat all the regions on the face, we had to use multiple Derma Roller of different sizes, while with Dermapen we treat all regions completely safely.
The use of Dermapen is an innovative and minimally invasive technique that causes micro trauma at the dermis level. The skin reacts to micro trauma by activating the process of self-healing, which results in enhanced synthesis of collagen - elastic structure in the skin. It has been clinically proven that the amount of collagen increases by 1000%.
Please note that there are numerous copies of Dermapen appliances on the market. At SkinCare Center we use only the original Dermapen, certified by the manufacturer Dermapen.
SkinCare Center therapists have undergone trainings for the application of Dermapen in medical care and have a Dermapen certificate.