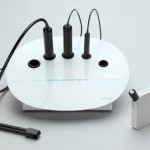 Skin Scanner is an electronic camera that gives a 50 to 200x magnification of the skin, which provides valuable assistance to the beautician in diagnosis.
A skin scanner is a professional device that can use the computer and special probes to accurately determine skin type, measure hydration, sebum volume, melanin and skin elasticity. A skin scanner allows us to do a complete skin analysis and diagnosis and be completely confident in the choice of treatments and products. With the help of the analyzer we obtain accurate data on the effects of the applied products, which is of great importance for the selection of adequate products and treatments.
The computer display allows you to determine your current skin condition (dry, dehydrated, shiny, sensitive, problematic T zone, tone problems), as well as to compare your skin to your age.